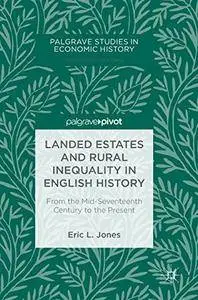 Landed Estates and Rural Inequality in English History: From the Mid-Seventeenth Century to the Present (Palgrave Studies in Economic History) by Eric L. Jones
English | 30 Apr. 2018 | ISBN: 3319748688 | 144 Pages | PDF (True) | 1.49 MB
Based on a detailed investigation of local sources, this book examines the history of the landed estate system in England since the mid-seventeenth century. Over recent centuries England was increasingly occupied by landed estates run by locally dominant and nationally influential owners. Historically, newcomers adopted the behaviour of existing landowners, all of whom presided over a relatively impoverished mass of rural inhabitants. Preferences for privacy and fine views led landowners to demolish or remove some whole villages. Alongside extensive landscape remodelling, rights-of-way were often privatised, imposing a cost on the economy.