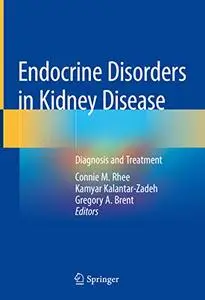 Connie M. Rhee and Kamyar Kalantar-Zadeh, "Endocrine Disorders in Kidney Disease: Diagnosis and Treatment"
English | ISBN: 3319977636 | 2019 | 354 pages | PDF, EPUB | 15 MB
This comprehensive book examines the complex interplay between endocrine and kidney disorders, and how this inter-relationship impacts patients with chronic kidney disease. Authored by experts in areas of endocrinology and nephrology, chapters cover a variety of topics, including diabetes, metabolic syndrome, thyroid dysfunction, gonadal disorders, dyslipidemia, mineral bone disorders, obesity, and pituitary disorders. These comorbidities are thoroughly examined and provide the clinician, researcher, and trainee with a greater understanding of the impact of endocrine disorders on kidney disease patients, the ability to identify persistent gaps in knowledge for future investigation, and move closer towards the goal of improving the health and survival of the chronic kidney disease population.