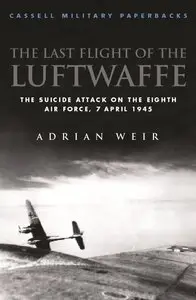 Cassell Military Classics: The Last Flight of the Luftwaffe: The Suicide Attack on the Eighth Air Force, 7 April 1945 by Adrian Weir
English | Aug 2000 | ISBN: 0304354473 | 224 Pages | AZW3/EPUB/PDF (conv) | 99 MB
By April 1945, Germany was well on its way to losing the war, suffering an onslaught from the Soviets on the East and ceaseless bombardment by British and U.S. planes on the West. The German command chose to fight back with a small-scale operation requiring only limited resources: they sent relatively inexperienced pilots from the famed Luftwaffe on a suicide mission flying directly into a formation of U.S. bombers. Follow this death-defying and little-known story in minute-by-minute detail.