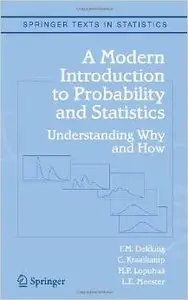 A Modern Introduction to Probability and Statistics: Understanding Why and How by F.M. Dekking
English | 19 Feb. 2007 | ISBN: 1852338962 | 484 Pages | PDF | 4 MB
Suitable for self study. Use real examples and real data sets that will be familiar to the audience. Introduction to the bootstrap is included – this is a modern method missing in many other books.