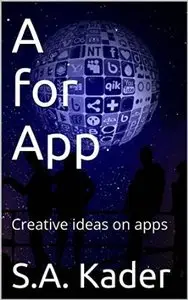 A for App: Creative ideas on apps by S.A. Kader
English | May 17, 2015 | ASIN: B00XUR9AX8 | 54 Pages | EPUB/MOBI | 117.29 KB/173.38 KB
Every living and non-living thing in the universe can be categorized as ten key structures such as anatomy, architecture, cluster, concept, design, force, fusion, institution, mechanism, and spectrum, and these ten types of structures can be classified into several other categories (Refer my book "Great Genius" in order to understand on ten key structures much deeper). In this book, these ten types of structures are combined with apps in order to create unlimited apps that can be used for generating new products, apps, designs, and services, developing novel websites and games, and downloading different types of apps from the internet. In this fast-paced world, professionals and students are not interested to read books as it takes a lot of time. Moreover, typical non-fiction books make them boring with mere explanations and illustrations. For example, if you extract a 100 page book, the key points of the book will be around just five pages and the rest will be mere elaborations. This book will not consume your valuable time and will not make you feel boring with mere descriptions and elaborated paragraphs as it has been written with line by line new app ideas.