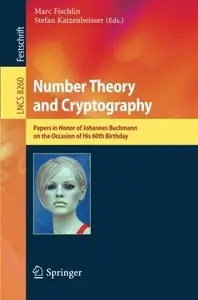 Number Theory and Cryptography: Papers in Honor of Johannes Buchmann on the Occasion of His 60th Birthday By Marc Fischlin, Stefan Katzenbeisser
2013 | 293 Pages | ISBN: 3642420001 | PDF | 9 MB
Johannes Buchmann is internationally recognized as one of the leading figures in areas of computational number theory, cryptography and information security. He has published numerous scientific papers and books spanning a very wide spectrum of interests; besides R&D he also fulfilled lots of administrative tasks for instance building up and directing his research group CDC at Darmstadt, but he also served as the Dean of the Department of Computer Science at TU Darmstadt and then went on to become Vice President of the university for six years (2001-2007). This festschrift, published in honor of Johannes Buchmann on the occasion of his 60th birthday, contains contributions by some of his colleagues, former students and friends. The papers give an overview of Johannes Buchmann's research interests, ranging from computational number theory and the hardness of cryptographic assumptions to more application-oriented topics such as privacy and hardware security. With this book we celebrate Johannes Buchmann's vision and achievements.