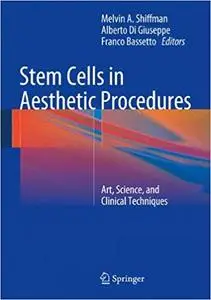 Melvin A. Shiffman, "Stem Cells in Aesthetic Procedures: Art, Science, and Clinical Techniques"
English | ISBN: 364245206X | 2014 | 822 pages | EPUB, PDF | 31 MB + 60 MB
Interest in the use of stem cells in aesthetic procedures has been increasing rapidly, reflecting the widespread acknowledgment of the tremendous potential of stem cell fat transfer. This is, however, the first book to be devoted entirely to the subject. The book opens by reviewing the history of the development of pluripotent stem cells and the results of research into the biochemistry and physiology of stem cells. Adipose tissue anatomy and survival are discussed and the wide range of aesthetic procedures involving stem cell fat transfer are then described in detail. These procedures relate to the face, breast, buttocks, legs, hands, penis and Poland syndrome. In addition, potential risks and complications are identified. The book has been written by leading experts and will be an invaluable source of information for students, beginners and experienced surgeons in a range of specialties.