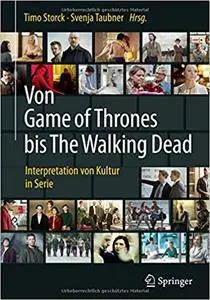 Timo Storck und Svenja Taubner, "Von Game of Thrones bis The Walking Dead: Interpretation von Kultur in Serie"
German | ISBN: 3662536889 | 2017 | 387 pages | PDF | 69 MB
TV-Serien sind in den letzten 15-20 Jahren zu einem besonders kreativen Feld für Schauspieler, Regisseure und Autoren geworden. Steigende Budgets und die streckenweise euphorische Resonanz beim Publikum und in den Feuilletons führen dazu, dass sich die traditionelle Form des Geschichtenerzählens vom Kinofilm zu TV-Serien hin verlagert hat - auch deshalb, weil sich das Serienformat hervorragend dazu eignet, längere Entwicklungen von Charakteren, Beziehungen und Handlungssträngen zu verfolgen. Im Zuge dessen haben sich auch unsere Sehgewohnheiten geändert. Immer öfter werden Serien nicht mehr im Fernsehen geschaut, sondern auf DVD oder gleich im Stream - und dann nicht nur eine Folge, sondern gerne auch mal die halbe Staffel am Abend. "Binge-watching" lässt grüßen. Gleichzeitig bietet die narrative und ästhetische Struktur der TV-Serie die Möglichkeit einer vielschichtigen Erkundung sozialer und gesellschaftlicher Bedingungen und Prozesse. Die Beiträge in diesem Buch nehmen Serien aus vielen verschiedenen Perspektiven in den Blick - von Psychologie, Medienwissenschaften, Amerikanistik, Kulturphilosophie bin hin zu Forensik und Neurobiologie.