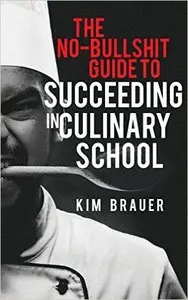 The No-Bullshit Guide to Succeeding in Culinary School by Kim Brauer
English | Nov. 28, 2015 | ISBN: 1516866274 | 236 Pages | MOBI/EPUB/PDF (conv) | 2.18 MB
Culinary school is a big investment and a big time commitment. This no-bullshit guide will help you get the most out of school, and launch into a rad professional cooking career.
We'll start with basics, like how to pull your kit (and all the other start-of-school shit) together. How to quickly establish competence and confidence, so you can start learning fast and effectively. Then we'll talk strategy:
- Why do you need a SWAT team? And what the hell is a SWAT team anyway?
- Your instructors will teach everyone, but mentor just a few. How do you become one of those students?
- What do you need to know to kick ass in both the classroom and the culinary school kitchen?
- What steps can you take now that will help you build a solid foundation for a kick-ass professional cooking career?
This is not a boring goddamn textbook - you'll have plenty of those soon enough. It's a ninja-level tactical field guide, full of crass language and kitchen humor. If you want to kick ass in school and beyond, read this no-bullshit book.
"With its frank discussion of the pros and cons of culinary school, Kim's guide is like the Grim Reaper, killing your misconceptions about the professional kitchen with fair but ruthless efficiency."
- The Surly Gourmand
"This language is appalling! You have to take out all of these swear words."
- My Mom
"Maybe just take out half the f**ks."
- My Dad