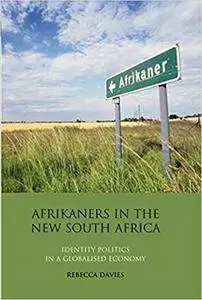 Afrikaners in the New South Africa: Identity Politics in a Globalised Economy (International Library of African Studies) by Rebecca Davies
English | Mar. 15, 2009 | ISBN: 1845117859 | 209 Pages | PDF | 1 MB
How has the position of Afrikaners changed since the end of the Apartheid regime in South Africa? While the links between Afrikaner nationalist identity and the apartheid regime have been irrevocably altered, it is evident that this newly disempowered minority still commands a vast material and cultural capital. Certain Afrikaans speakers have become important players in the new South Africa and on the world stage. Davies argues that the global political economy and the closely associated ideology of globalization are major catalysts for change in Afrikaner identifications and positions. She identifies multiple Afrikaner constituencies and identities and shows how they play out in the complex social, economic and political landscape of South Africa. Accessible, informative and well-written, Afrikaners in the New South Africa is a vital contribution to our understanding of post-apartheid South Africa. It will be indispensable for those interested in South Africa, identity politics, globalization, international political economy and geography.