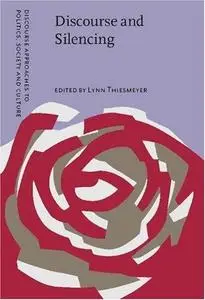 Discourse and Silencing: Representation and the Language of Displacement By Lynn Janet Thiesmeyer
2003 | 298 Pages | ISBN: 158811385X | PDF | 2 MB
Silencing is not only a physically coercive act. It is also an act of language involving forms of selection, representation and compliance. Discourse and Silencing weaves together theories and examples of discourse from different disciplines in order to put forward a theory of silencing in language: that discursive systems filter, represent and displace types of knowledge into other forms of expression. Each chapter of the book analyses examples of silencing through discourse in various social and political fields. The examples cover courtroom trials, government censorship, domestic violence, marital conversations, penal institutions, news media, and political rhetoric. They cover societies ranging from Eastern and Central Europe, Canada and the U.S. to New Zealand and Japan. The contributors clarify the difference between chosen silences and the silencing that, as a practice, seeks to limit, alter or de-legitimise another's discourse. The book also examines the continuous resistances and shifts in discourse and silencing within the social and political frameworks in which interlocutors negotiate their relations to each other.