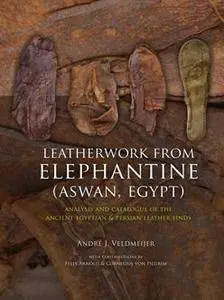 Leatherwork from Elephantine (Aswan, Egypt) :
Analysis and Catalogue of the Ancient Egyptian & Persian Leather Finds
by Andre J. Veldmeijer
English | 2016 | ISBN: 9088903794 | 211 Pages | PDF | 25 MB
'Leatherwork from Elephantine' describes, illustrates and analyses the finds from the excavations at Elephantine island (Aswan, Egypt) that are conducted by the German Archaeological Institute (DAI), in collaboration with the Swiss Institute for Architectural and Archaeological Research on Ancient Egypt (SI). The majority of the finds are dated to periods well after the pharaonic era (4th century AD onwards), save for a few finds from the New Kingdom and the Middle Kingdom. The majority of finds are sandals and shoes. Most important for leatherwork/footwear studies, however, is the footwear from the Persian layers (6th-5th c. BC), which is distinctly different from ancient Egyptian leatherwork. Ample attention will be given to this important group.
Dr. Andre J. Veldmeijer studied archaeology at Leiden University and received his PhD in Vertebrate Palaeontology from Utrecht University in 2006. He has worked in Egypt since 1995 as a leather, footwear and cordage specialist for various missons. His second PhD, on the archaeology of footwear, is planned for the next four years. Veldmeijer is the director of two ongoing research projects: Ancient Egyptian Leatherwork Project and Ancient Egyptian Footwear Project.