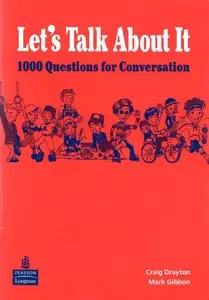 Craig Drayton, Mark Gibbon, "Let's Talk About It: 1000 Questions for Conversation"
Publisher: Pearson | 2007 | ISBN: 9620016319 | English | PDF | 50 pages | 6.9 Mb
Let's Talk About It is a conversation practice book for students. The book has twenty units that introduce practical, high-interest topics and gets students sharing experiences, giving opinions, and making cross-cultural comparisons. This book contains 1,000 questions to start conversations and keep them going.