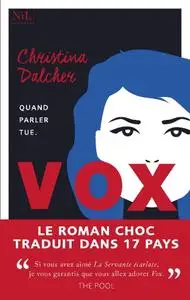 Christina Dalcher, "Vox : Quand parler tue"
2019 | ASIN: B07P5FHNBW | Français | MP3@128 kbps | 10 hrs 53 mins | 477.6 MB
Christina Dalcher nous offre avec Vox un roman dystopique glaçant qui rend hommage au pouvoir des mots et du langage.

Jean McClellan est docteure en neurosciences. Elle a passé sa vie dans un laboratoire de recherches, loin des mouvements protestataires qui ont enflammé son pays. Mais, désormais, même si elle le voulait, impossible de s'exprimer : comme toutes les femmes, elle est condamnée à un silence forcé, limitée à un quota de 100 mots par jour. En effet, le nouveau gouvernement en place, constitué d'un groupe fondamentaliste, a décidé d'abattre la figure de la femme moderne. Pourtant, quand le frère du Président fait une attaque, Jean est appelée à la rescousse. La récompense ? La possibilité de s'affranchir - et sa fille avec elle - de son quota de mots. Mais ce qu'elle va découvrir alors qu'elle recouvre la parole pourrait bien la laisser définitivement sans voix…

Christina Dalcher est docteure en linguistique, doctorat qu'elle a obtenu à l'Université de Georgetown. Elle a enseigné aux Etats-Unis, en Angleterre et aux Emirs arabes. Ses nouvelles ont été publiées dans une centaine de journaux à travers le monde. Son œuvre a été plusieurs fois sélectionnée par des prix littéraires, parmi lesquels le Bath Flash Award, le Best of the Net et le Pushcart. Elle enseigne la " micro-fiction " à l'université The Muse Writers Center à Norfolk, en Virginie. Après avoir vécu de nombreuses années à l'étranger, plus récemment au Sri Lanka, Dalcher et son mari partagent désormais leur temps entre le sud des États-Unis et l'Italie, à Naples. Vox est son premier roman.