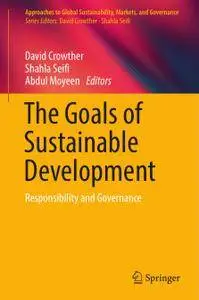 The Goals of Sustainable Development: Responsibility and Governance By David Crowther, Shahla Seifi, Abdul Moyeen
English | PDF | 2018 | 254 Pages | ISBN : 9811050465 | 3.4 MB
This book analyses various aspects of social responsibility, corporate responsibility, sustainability and governance. Rather than focusing narrowly on a single perspective, it investigates a number of problems and scenarios that can all be considered an aspect of one of these fields, and shows how they are all related to each other and to the problems and issues facing businesses.
This approach is based on the tradition of the Social Responsibility Research Network, which in its 15-year history has sought to broaden the discourse and to treat all research in these areas as inter-related and relevant to business.
The book collects the best papers presented at the 15th International Conference on Corporate Social Responsibility and 6th Organisational Governance Conference held in Melbourne, Australia in September 2016.