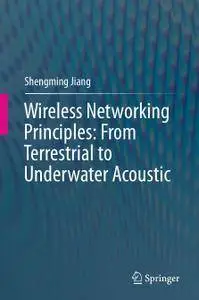 Wireless Networking Principles: From Terrestrial to Underwater Acoustic By Shengming Jiang
English | PDF,EPUB | 2018 | 434 Pages | ISBN : 9811077746 | 30.98 MB
This book systematically summarizes the fundamentals and various technologies in both terrestrial radio wireless networks and underwater acoustic networks (UWANs). It addresses the basic issues frequently investigated in terrestrial radio wireless networks and the key technologies suitable for the newly developing research area of UWANs. Starting with a review of our current understanding of wireless networks, it then introduces the principles of the main technologies, including error control, medium access control (MAC) protocols, routing protocols, end-to-end transmission control and mobility issues as well as network security for terrestrial radio wireless networks, and offers detailed surveys of these technologies for UWANs.