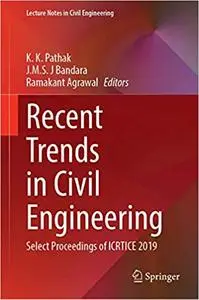 K. K. Pathak, "Recent Trends in Civil Engineering: Select Proceedings of ICRTICE 2019 "
English | ISBN: 9811551944 | 2021 | 1126 pages | PDF | 51 MB
This book presents the selected peer-reviewed proceedings of the International Conference on Recent Trends and Innovations in Civil Engineering (ICRTICE 2019). The volume focuses on latest research and advances in the field of civil engineering and materials science such as design and development of new environmental materials, performance testing and verification of smart materials, performance analysis and simulation of steel structures, design and performance optimization of concrete structures, and building materials analysis. The book also covers studies in geotechnical engineering, hydraulic engineering, road and bridge engineering, building services design, engineering management, water resource engineering and renewable energy. The contents of this book will be useful for students, researchers and professionals working in civil engineering.