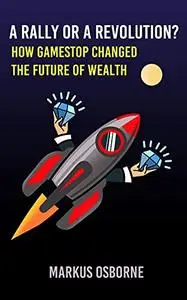 A Rally or a Revolution?: How GameStop Changed the Future of Wealth by Markus Osborne
English | May 31, 2021 | ISBN: 1914459164 | 166 pages | EPUB | 0.41 Mb
Book Overview
The GameStop saga nearly bought Wall Street to its knees. Established hedge funds, like Plotkin's Melvin Capital, were left scrambling for handouts to keep their ventures afloat, but how did a band of unqualified investors weaponize an internet message board like Reddit to bring them down?
Join me as we analyze the impact that the anti-establishment sentiment in WallStreetBets had on GameStop's ultimate performance on the stock market at the beginning of 2021. We'll dive into decades of market research, discuss market psychology, and analyze stock market indicators to cast light on a phenomenon that took the world by storm.
From superheroes turned supervillains, like Robinhood, to financial advisors turned folk heroes, like Keith Gill, we'll profile all of the parties that were involved in the GameStop rally and discuss the fallout they endured because of it.
The GameStop saga appears to be far from over, but the question remains whether it will ever reach the elusive $1,000 threshold that has been discussed in WallStreetBets or whether amateur investors are better off closing their positions and spending their time trying to find "the next GameStop."
Most importantly, we'll answer the most pressing question of all: Will the guillotines really be rolled out, or was the revolutionary rhetoric that reigned supreme in WallStreetBets nothing but a flash in the pan?
Feel Free to contact me for book requests, informations or feedbacks.
Without You And Your Support We Can't Continue
Thanks For Buying Premium From My Links For Support