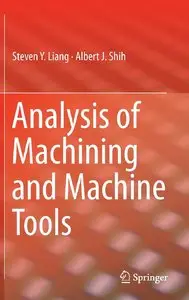 Analysis of Machining and Machine Tools
Springer | Production & Process Engineering | December 30, 2015 | ISBN-10: 1489976434 | 230 pages | pdf | 15.04 mb
Authors: Liang, Steven Y., Shih, Albert J.
Includes coverage of traditional and non-traditional machining based on energy beams, abrasives and fluids
Includes advanced level material with an emphasis on analytical and quantitative reasoning
Contains detailed examples and homework problems
Provides case studies from the automotive and aerospace industry that help illustrate key points and allow readers to see the concepts discussed in a real world setting
About this Textbook
This book provides readers with the fundamental, analytical, and quantitative knowledge of machining process planning and optimization based on advanced and practical understanding of machinery, mechanics, accuracy, dynamics, monitoring techniques, and control strategies that they need to understanding machining and machine tools. It is written for first-year graduate students in mechanical engineering, and is also appropriate for use as a reference book by practicing engineers. It covers topics such as single and multiple point cutting processes; grinding processes; machine tool components, accuracy, and metrology; shear stress in cutting, cutting temperature and thermal analysis, and machine tool chatter. The second section of the book is devoted to "Non-Traditional Machining," where readers can find chapters on electrical discharge machining, electrochemical machining, laser and electron beam machining, and biomedical machining. Examples of realistic problems that engineers are likely to face in the field are included, along with solutions and explanations that foster a didactic learning experience.
Number of Illustrations and Tables
117 illus., 41 in colour
Topics
Manufacturing, Machines, Tools
Machinery and Machine Elements
Structural Mechanics
More info and Hardcover at Springer
Purchase a Premium account to Donate & Support :)
More Science Books …Visit my Blog :)