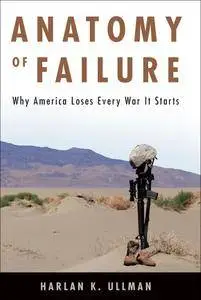 Anatomy of Failure: Why America Loses Every War It Starts by Harlan Ullman
English | November 15th, 2017 | ASIN: B075XPH31Q, ISBN: 1682472256 | 272 pages | EPUB | 0.41 MB
Since the end of World War II, America lost every war it started and failed in military interventions when it did not use sound strategic thinking or have sufficient knowledge and understanding of the circumstances in deciding to use force. The public and politicians need to understand why we have often failed in using military force and the causes. From that understanding, hopefully future administrations will be better prepared when considering the most vexing decision to employ force and send Americans into battle.
The twin causes have been the failure to think strategically and to have sufficient knowledge and understanding when deciding on the use of force. Interestingly, this failure applies to republicans and democrats alike and seems inherent in our national DNA as we continue ignore past mistakes. By examining the records of presidents from John F. Kennedy to Barack Obama in using force or starting wars, it becomes self-evident why we fail. And the argument is reinforced by autobiographical vignettes that provide a human dimension and insight into the reasons for failure, in some cases making public previously unknown history.
The recommendations and solutions offered in Anatomy of Failure begin with a framework for a brains based approach to strategic thinking and then address specific bureaucratic, political, organizational and cultural deficiencies have reinforced this propensity for failure. The clarion call of the book is that both a sound strategic framework and sufficient knowledge and understanding of the circumstance that may lead to using force are vital. Without them, failure is virtually guaranteed.