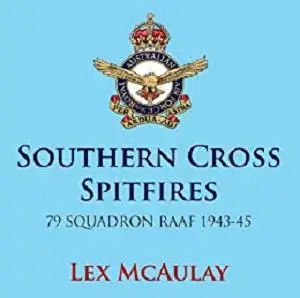 Southern Cross Spitfires - 79 Squadron RAAF 1939-45 by Lex McAulay by Lex McAulay
English | January 10, 2012 | ASIN: B006WCZ5W8 | 393 pages | AZW3 | 0.46 MB
79 Squadron was the only Spitfire squadron raised in Australia; others were formed elsewhere. The squadron flew against the Japanese in the New Guinea area 1943-44 and from Morotai in 1945.
This history relates the life and times of the pilots and ground crew, their successes and losses, the problems met trying to operate the Spitfire in that environment, and the lack of support throughout from higher RAAF echelons.
Some of the pilots had distinguished themselves in action over Europe or other theatres, and these events are included, to show the wide range of experience in RAAF fighter units 1943-45.
Despite flying a superb combat aircraft that was the most famous of WW2 British fighters, the squadron had little air-to-air fighting, and found itself making bombing attacks and flying very dangerous low-level searches and strafing runs on small camouflaged ground targets, often arranged as traps to assist Japanese anti-aircraft guns.
The implacable weather, engine problems, Japanese ground fire and human error combined to create a steady trickle of fatal losses, serious crashes and damaged aircraft.
There are many contributions from men of all ranks in the squadron, from diaries and letters, as well as official records and reports and information from the Japanese side.
The history includes the loss of life, the effects of tropical illness, loss of aircraft, and nominal rolls of pilots and the advance party that went ahead in 1943 to prepare the squadron's first base in the tropics, on Goodenough Island.
To keep the manuscript close to the size for Amazon-Kindle items, the maps have not been included and most photos omitted.
these are included in the full version available on disk from Banner Books.