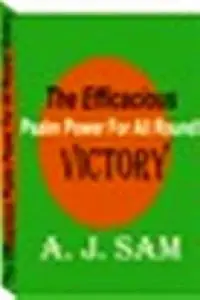 EFFICACIOUS PSALMS POWER FOR ALL ROUND VICTORY: IMPORTANT OBSERVATION ABOUT THE POWER OF BOOK OF PSALM by David Olushola
English | April 1, 2014 | ASIN: B00JJ725Q2 | 198 pages | AZW3 | 0.15 MB
EFFICACIOUS PSALMS POWER FOR ALL ROUND VICTORY will completely show you how you can make good use of book of psalm to request what ever you need from God any time you want, it reveal to you chapter by chapter what each book has been authorized to do for you as a human being by God. This book of psalm has given a lot of victory and success in life, it has shown how great God's power is to me, it has reveal to me how to pray and receive the answers to my prayers instantly. Yo will see how to deal with any thing you think is giving you problems and come out of it very easily. This book will make you strong, and prayer giant. You should know that prayer is very important but many people did not know how to use the book of psalm to pray effective prayer. A chapter in psalm can be use to execute so many things that you did not know and that is all i have given answers to in this book. You will be doing your self so many good laying your hands on this book, have it on you system, search it for any thing you thinks you need application for from God, everything are there for you and also for your success. If you find it so had to be successful on a particular thing you are trying to do, just get this book, you will see a road map to your success ground inside. Opportunity comes but ones. Make use of the opportunity now, sure you will not be the same again.