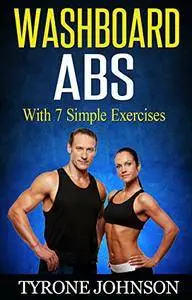 Tyrone Johnson, "Washboard Abs With 7 Simple Exercises"
2014 | EPUB | 36 pages | ASIN: B00NQJ5L6U | English | 0.1 MB
DISCOVER THE SECRETS TO HAVING WASHBOARD ABS WITHOUT STARVING YOURSELF OR EXPENSIVE GYM MEMBERSHIPS
Have you ever looked down at your midsection and felt that sickening feeling where you know that's not how you want to look?
And that you so desperately wish to shed all those belly fats revealing the toned midsection you've always dreamed about?
If so, then I've got GOOD NEWS for you!
Introducing……. WASHBOARD ABS WITH 7 SIMPLE EXERCISES
This book will teach you 7 simple but POWERFUL exercises you need to finally achieve your dream of shedding the belly fat for good!
You can do these exercises either at the comfort of your own home or office in under 30 minutes without the need for expensive gym memberships and equipment or starve yourself.
Download: