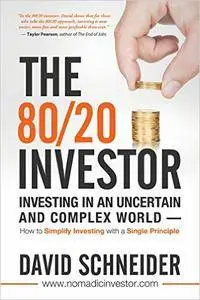 "The 80/20 Investor: Investing in an Uncertain and Complex World - How to Simplify Investing with a Single Principle" by David Schneider
2016 | EPUB | 239 pages | ASIN: B01C8DT4IK | English | 1.57 MB
Are you searching for a simple path to financial freedom? Are you worried about your retirement but don't want to deal with the complexity of investing and the financial services industry? Fed up with 0% interest, but don't know anything about investing?
You're in the right place.
The 80/20 Investor, harnessing the power of the 80/20 principle, simplifies investing. In no time, you will learn the basic of investing, how to finance your investments, where to look for "no-brainer" opportunities and understand real investment risk and how to reduce it. This book allows you to enter the seemingly intimidating world of investing, with constructive tips from some of those who have changed the game– The Rothschilds, Hetty Green, J. Paul Getty, Henry Singleton, and others.
After reading "The 80/20 Investor" you will know:

+ How to apply the 80/20 Principle to financial freedom and the three pillars of 80/20 Investing.
+ How to reduce your investment workload, by focusing only on the most valuable investment opportunities and achieve better performance than professionals.
+ learn how to improve your investment decision making by using the 80/20 principle and effective "mental models".
+ Find the best investment opportunities by obeying the "investment seasons" and using the "magic categories" to find no-brainer opportunities.
And much, much more…