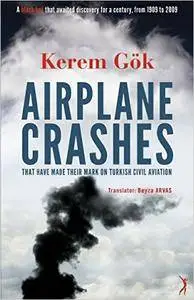 Airplane Crashes That Have Made Their Mark on Turkish Civil Aviation: A black box that awaited discovery for a century, from 1909 to 2009 by Kerem Gok
English | March 9, 2016 | ASIN: B01CTBQPQK | 146 Pages | AZW4/PDF (True) | 14.43 MB
Last announcements for last flights, last takeoffs and last journeys in the sky…
Airplane crashes, which are among the incidents in Turkish history with the most tragic details, have always been a closed book. Each of these accidents, currently prone to being forgotten, left its mark on a period and made it to the news on the first page of every newspaper. In other words, the air crashes in our civil aviation history are now imprinted on the minds of people as incidents which have always been intriguing and fascinating.
This book opens with the first airplane crashes that made a mark on our civil aviation history, continues with sensational accidents such as the 1974 Paris crash, which earned the title of "the most fatal airplane crash in history", and the 1976 Isparta crash, which caused the Italian people to go into mourning at the time, and ends with the 2009 Amsterdam crash. The book encompasses over thirty five civil aviation accidents which made an impact on Turkish civil aviation history, all examined by the author through an unprecedented research. While enjoying curious details from the enchanting world of airplanes, as well as aviation history, you will also be reading the exciting adventures embarked on by the author during his search for the remains of a plane that crashed ages ago.
In this book, which was prepared with painstaking effort by Kerem Gök, you will find interesting stories on air crashes in Turkish civil aviation history, which are worth remembering. A unique journey which is recited with words that start from the dusty pages of aviation history and extend over the clouds awaits you.
Once you start reading, get ready to open a black box which has been waiting to be discovered for a century.