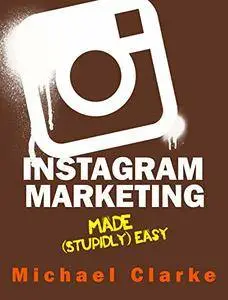 Michael Clarke, "Instagram Marketing Made (Stupidly) Easy"
2016 | EPUB | 93 pages | ASIN: B01DO7Q8LA | English | 0.1 MB
**PRAISE FOR INSTAGRAM MARKETING MADE STUPIDLY EASY**
"Wow, another gem from Michael Clarke. I love his ethos and attitude, it makes a fun time of a horribly dull topic! I bought his FB and email books too and intend buying more after seeing the results of their application. I highly recommend this." -Tonia
"If you are looking for something that explains Instagram marketing, the culture, and mindset of this social media platform, then I highly recommend that you read this book. It is a supremely helpful, witty, and easy to understand resource that would prove to be an asset in the library of a small business owner." -Mickey
Wanna dip your toe into the strange world of Instagram marketing? (Have a feeling this bizarre, but powerful, social media platform can offer you access to a mass of zombie followers…err..possible new leads?)
Wanna reach folks aged 18-35, but no idea how to use Instagram for business purposes and turn those posts and likes (and those all-important photo filters) into actual marketing gains?
Look no further, intrepid marketer!
Because in "Instagram Marketing Made (Stuipdly) Easy" - the new offering from Michael Clarke, founder and editor of Punk Rock Marketing magazine, you'll learn the secrets, shortcuts and strategies to Instagram marketing success.
Give it a try: you might not just became a Millennial hero…but you could also end up making a helluva lot of money.
Download: