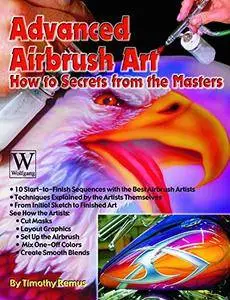 Advanced Airbrush Art by Timothy Remus
English | 24 Mar. 2017 | ASIN: B06XTZNH75 | 201 Pages | AZW3 | 7.45 MB
"Like a video done with still photography, this book from Wolfgang Publications is made up entirely of photo sequences that illustrate each small step in the creation of an airbrushed masterpiece. Watch as well-known masters like Vince Goodeve, Chris Cruz, Steve Wizard and Nick Pastura start with a sketch and end with a NASCAR helmet or motorcycle tank covered with graphics, murals, pinups or all of the above.
Interviews explain each artist's preference for paint and equipment, and secrets learned over decades of painting. Projects include a chrome eagle surrounded by reality flames, a series of murals, two pinups, three skulls and a variety of graphic designs.
It's hard to have an airbrush book without plenty of color images, this one uses nearly 500 color photos to explain each step – from the initial layout to the application of paint - necessary for the creation of a masterful airbrushed image. Let the painters teach you how to create more realistic flames, better balanced skin tones and tighter detail. This is a great book for anyone who takes their airbrushing seriously and wants to learn more."