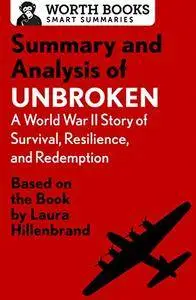 Summary and Analysis of Unbroken: A World War II Story of Survival, Resilience, and Redemption: Based on the Book by Laura Hillenbrand (Smart Summaries) by Worth Books
English | 9 May 2017 | ASIN: B0713ZHC3H | 105 Pages | AZW3 | 686.69 KB
So much to read, so little time? This brief overview of Unbroken tells you what you need to know—before or after you read Laura Hillenbrand's book.
Crafted and edited with care, Worth Books set the standard for quality and give you the tools you need to be a well-informed reader.
This short summary and analysis of Unbroken: A World War II Story of Survival, Resilience, and Redemption includes:
Historical context
Chapter-by-chapter overviews
Detailed timeline of events
Character profiles
Important quotes
Fascinating trivia
Glossary of terms
Supporting material to enhance your understanding of the original work
About Unbroken by Laura Hillenbrand:
Louis Zamperini was a true American hero: He proudly represented the United States as a champion runner in the 1936 Olympics in Berlin, served his country as a skilled Air Corps bombardier during World War II, and survived more than a month lost at sea after his plane crashed into the Pacific Ocean—only to end up as a prisoner of war in Japan.
When he was finally released, Zamperini was tormented by personal demons and wracked by post-traumatic stress disorder. After meeting evangelical minister Billy Graham, he became a born-again Christian and was able to forgive the captors who tortured him.
More than a military biography, Unbroken is a timeless, engrossing, and inspiring story of bravery, endurance, and resilience.
The summary and analysis in this ebook are intended to complement your reading experience and bring you closer to a great work of nonfiction.