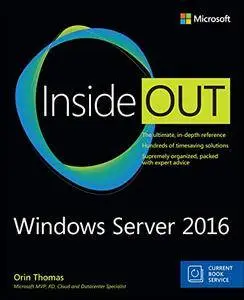 Windows Server 2016 Inside Out (includes Current Book Service) by Orin Thomas
English | 4 May 2017 | ASIN: B072BDNHLS | 720 Pages | AZW3 | 38.75 MB
Conquer Windows Server 2016—from the inside out!
Dive into Windows Server 2016—and really put your Windows Server expertise to work. Focusing on Windows Server 2016's most powerful and innovative features, this supremely organized reference packs hundreds of timesaving solutions, tips, and workarounds—all you need to plan, implement, or manage Windows Server in enterprise, data center, cloud, and hybrid environments. Fully reflecting Windows Server new capabilities for the cloud-first era, Orin covers everything from Nano Server to Windows Server and Hyper-V Containers. You'll discover how experts tackle today's essential tasks—and challenge yourself to new levels of mastery.
• Optimize the full Windows Server 2016 lifecycle, from planning and configuration through rollout and administration
• Ensure fast, reliable upgrades and migrations
• Seamlessly deliver core DNS, DHCP, file, print, storage, and Internet services
• Use IPAM to centrally manage all enterprise DNS and DHCP infrastructure
• Gain dramatic storage utilization improvements with built-in deduplication and storage replica
• Build flexible cloud and hybrid environments with Windows Containers and Shielded VMs
• Seamlessly integrate Azure IaaS services with Windows Server 2016
• Slash resource usage and improve availability with tiny Nano Server installations
• Improve configuration management with Desired State Configuration and Chef
• Deliver Active Directory identity, certificate, federation, and rights management services
• Protect servers, clients, assets, and users with advanced Windows Server 2016 security features including Just Enough Administration
For Experienced Windows Server Users and IT Professionals
• Your role: Experienced intermediate-to-advanced level Windows Server user or IT professional
• Prerequisites: Basic understanding of Windows Server procedures, techniques, and navigation