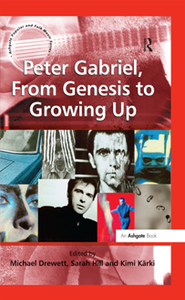 Peter Gabriel, From Genesis to Growing Up
by Sarah Hill and Michael Drewett
English | 2017 | ASIN: B073RPWBYL | 288 Pages | PDF | 4.08 MB
Ever since Peter Gabriel fronted progressive rock band Genesis, from the late 1960s until the mid 1970s, journalists and academics alike have noted the importance of Gabriel's contribution to popular music. His influence became especially significant when he embarked on a solo career in the late 1970s. Gabriel secured his place in the annals of popular music history through his poignant recordings, innovative music videos, groundbreaking live performances, the establishment of WOMAD (the World of Music and Dance) and the Real World record label (as a forum for musicians from around the world to be heard, recorded and promoted) and for his political agenda (including links to a variety of political initiatives including the Artists Against Apartheid Project, Amnesty International and the Human Rights Now tour). In addition, Gabriel is known as a sensitive, articulate and critical performer whose music reflects an innate curiosity and deep intellectual commitment. This collection documents and critically explores the most central themes found in Gabriel's work. These are divided into three important conceptual areas arising from Gabriel's activity as a songwriter and recording artist, performer and activist: 'Identity and Representation', 'Politics and Power' and 'Production and Performance'.
If you want to support my blog, then you can buy a premium account through any of my files (i.e. on the download page of my book). In this case, I get a percent of sale and can continue to delight you with new books!