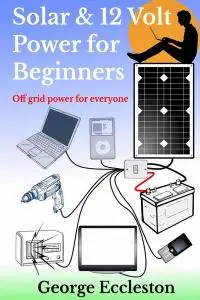 Solar & 12 Volt Power for Beginners: Off Grid Power for Everyone by George Eccleston
English | 2017 | ASIN: B074JQP759 | 143 pages | EPUB, PDF(conv) | 2 MB, 3 MB
Know nothing about 12 volt power & solar panels? Then this is the right book for you! Learn how to power laptops, TV's, fans, power tools, DVD's, music, mobile phones and so much more straight from a power supply that you built. From complete beginner knowing nothing to seasoned off grid expert in a couple of days if not sooner. Learning the basics of providing your own power for your boat, shed, caravan, mobile home etc, has never been made easier for you to understand and master. Simple easy explanations, with no technical jargon and masses of diagrams, photographs and explanations. Making your learning experience an easier, quicker and more pleasant experience for you. Written from the complete beginner's point of view this book will guide you through everything that you need to know in order to realise your off grid dreams today. Only including the essential things that you need to know and throwing the technical gibberish that confuses most beginner's, makes this book a must for newbie's & the confused. Look no further your off grid knowledge is contained within this book, enjoy the experience of learning and living your dream. Get the book & live the dream.