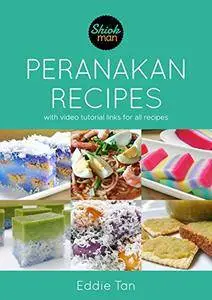 Shiokman Peranakan Recipes: With Video Tutorial Links for All Recipes by Eddie Tan
English | 28 Sep. 2017 | ASIN: B0761W2R22 | 70 Pages | AZW3 | 3.68 MB
Learn the art of Nyonya kueh-making and other Peranakan dishes from the comfort of your own home.
Brought to you by Shiokman Eddie of ShiokmanRecipes.com, Shiokman Peranakan Recipes eBook contains 30 recipes in total (all with links to video tutorials), including 7 new recipes with exclusive video tutorial links (i.e. for buyers only).
All 30 recipes are tried and tested, so you don't have to waste precious time searching the internet for authentic recipes.
The eBook also includes interactive features such as:
- Clickable Table of Contents: On the Table of Contents page, click on the name of the recipe you wish to view, and it'll take you to the page right away!
- Clickable YouTube links for all recipes: Click on the video link provided in each recipe to watch the video tutorial for it, and gain a better understanding of how to make the kueh/dish.