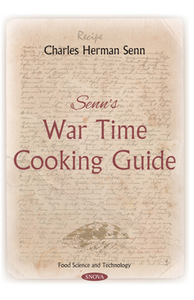 Senn's War Time Cooking Guide
by Charles Herman Senn
English | 2018 | ASIN: B079Z9FP27 | 118 Pages | PDF | 2.65 MB
This book, written by Charles Herman Senn (1864-1934) and originally published in 1915, brings the old recipes and techniques of cooking from during the war. It provides a unique window into peoples' lives and how they survived during the war. The book is broken down into the following sections:
• Recipes for Soups
• Fish Preparations
• Meat Dishes
• Vegetables
• Breakfast and Supper Dishes
• Sweets, Puddings
• Cakes and Pastries
• Invalid Dishes
• Sauces
• Management of Gas Stoves
• Inexpensive Family Meals
• Some Economy Hints (substitutes, for example, the can be used for Meat and Fish which were scare, how to avoid waste in food scraps and how to avoid waste in cooking, etc).
• Index of Recipes