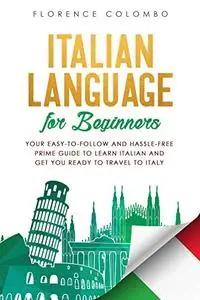 Italian Language for Beginners: Your Easy-to-Follow and Hassle-Free Prime Guide to Learn Italian by Florence Colombo
English | 2019 | ASIN: B081GJ5DFK | 118 Pages | PDF/EPUB/AZW3/MOBi | 4.58 MB

★ Have you ever wanted to learn Italian?
★ Is it one of the items on your to-do list that you haven't been able to get around doing?
★ Don't have the time to take a class or join a language school?
★ Can't seem to find the time to sit down and learn Italian?
▶ If you have answered "yes" to any of these questions, then stick around because we have just the thing for you.
✔ In this volume, you will find a full guide to getting started with Italian. You will learn about the basics regarding language learning, as well as, proven techniques and strategies which will help you master the art of learning languages.In addition, we will be taking a look at the fundamentals of Italian grammar, vocabulary, pronunciation, among other aspects. This guide will help you get started on learning Italian regarding of the reasons you may have for learning. So, whether you are looking to learn Italian for school, business or simply because you are planning on taking a trip to Europe, you will find everything you need to get started in this book.