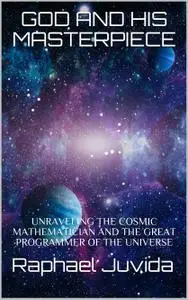 Raphael Juvida, James Heinz, Milton Beattie, "God and His Masterpiece: Unraveling The Cosmic Mathematician and The Great Programmer of The Universe"
English | 2020 | ASIN: B08PG2CNT6, B08PJWJSLX | EPUB | pages: 207 | 0.7 mb
Science deals with being objective and sets to answer things that are observable and seeks to answer all things, hoping to illuminate various things of our existence. However, it cannot address child-like questions, such as "Why do I exist? "In my view, the question of Origin seems to be left unanswered if we explore it from a scientific point of view. Thus, I believe there is a need for some religious or metaphysical explanation, I believe in the concept of God and in His existence" - Charles Townes, Nobel Prize for Physics (1964).Science deals with reality, and sought to answer what is in the Universe, but it has nothing to say about the Agent that caused it's existence. 'You can say a hot coffee in purely naturalistic terms the concept of heat, induction and the agitation of the molecules, but you cannot deny that someone also made that coffee for enjoyment and leisure.'It cannot answer the Supernatural, or anything that is"beyond nature", but it doesn't mean that they don't exist at all! Science cannot tell us what is beautiful or not, and what was moral thing to do and what was not. God doesn't compete with science anymore, for He knows that He is independent of it, and was more great than what only can science can tell to us. However, just as what Apostle Paul told us that His Works are seen and was part of the evidence of the Design that made life possible. "The Chief aim of all investigations of the external world should be to discover the Rational Order which has been imposed on it by God, and which He revealed to us in the language of mathematics" -Johannes Kepler.
The Scientific innovation and its progress were made possible and fueled by the transition from a very symbolic interpretations of the Bible at the Middle ages (Dark ages), to a much more comprehensive contextual interpretation of the Scriptures. The truth is, Galileo (1564-1642), Kepler (1571-1630), Pascal (1623-62), Boyle (1627-91), Newton (1642-1727), Faraday (1491-1867), Babbage (1791-1871), Mendel (1872-84), Pasteur (1822-95), Kelvin (1824-1907) and Clerk Maxwell (1831-79) were theists, and most of them are Christians. These early pioneers of science in their time has the most greatest contributions to the rise of science as we know it today. They don't share the beliefs of many atheist scientists today that there is no Creator, in fact it was their inspiration and fuel for doing science.