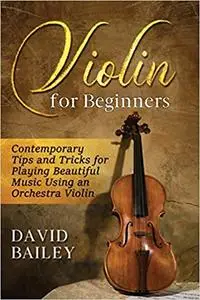 Violin for Beginners: Contemporary Tips and Tricks for Playing Beautiful Music Using an Orchestra Violin
By David Bailey
English | 2020 | ASIN : B08RKGKTKW | 151 Pages | EPUB | 6.7 MB
Have you always loved the violin, but only from afar? Have you ever wondered how on Earth such beautiful, out-of-this-world sounds could come from an instrument? Do you wonder what those weird lines and dots that the pros look at as they play actually mean? Feel like you could never play the violin like an expert? If you answered yes to these questions, then this book is for you.In this book, you will:Master the various parts of the violinDiscover the amazing world of bowing techniquesLearn how to finger your instrument just like the great violinists doUncover the secret language of the staff, so you have an entire world of music to exploreGet the lowdown on various kinds of violins and their prices so you don't get scammedEnjoy learning to play various styles to evoke different emotions from your musical piecesBecome a pro at caring for your violin Explore various music pieces with different time signaturesBe amazed at the tips and tricks you'll discover to make bowing a breezeConquer the art of dynamic playingAnd so much more!With this book, you no longer have to be frightened by the violin. With this book as your launchpad, you too can etch your name among the list of master violinists!