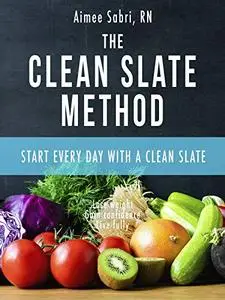 The Clean Slate Method: Start Every Day With A Clean Slate
By imee Sabri
English | 2020 | ASIN : B08RLY9QYH | 208 Pages | PDF | 13 MB
Have you ever wondered why losing weight and keeping it off feels so difficult? Confused by all the conflicting information out there? Think your metabolism is "broken" or that everyone can lose weight but you? Answers to all these questions and more are here for you in "The Clean Slate Method." Aimee Sabri, RN, lays out a simple approach to losing weight and keeping it off, effortlessly and easily. Learn how to track calories while eating an anti-inflammatory diet. Learn how to food prep while making healthy and delicious recipes. Explore your triggers and celebrate your wins with helpful journaling techniques. This is not just some 30 day plan, it is a total lifestyle change so you finally gain control over your eating and sculpt the physique you want once and for all.