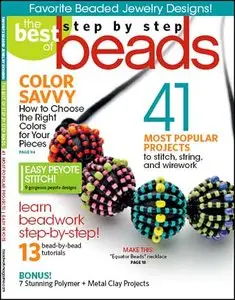 Jane Dickerson, "The Best of Step By Step Beads 41 Most Popular Projects"
S..e I..e M..e (2011) | PDF | 144 pages | ASIN: B006NK3H2O | 29.3Mb
41 Favorite (Step-by-Step) Excuses to Bead. become color savvy! Discover all the shades and combinations of red, yellow, blue, and all the colors in-between! Learn the beauty behind analogous colors, find inspiration in culture, use dominance to create harmony, and utilize winter's contrast while crafting your favorite pieces.
Turn your ideas into a palette for all of your jewelry designs with Margie Deeb.
Now you can learn beadwork step by step with 13 bead-by-bead tutorials designed to help you perfect your skills! Learn simple and complex techniques such as two-needle right-angle weave, single-needle right-angle weave, brick stitch, flat right-angle weave, two-ladder needle stitch, and much, much more!
Discover why patinas are one of the simplest ways to change and enhance the look of any metal element included in your beaded jewelry designs. Dying to learn more? Take a 101 course in patina taught by expert Lora Hart.
Add a little more thrill with 41 of our most popular projects that you can stitch, string, and wirework! Use even-count peyote to add a twist to your basic bracelet and design a clever bracelet that looks like separate beaded links but is actually stitched in one piece! With these designs and many more, you won't be able to put your beading needle down, and who is there to stop you?
Dive into 148 pages of The Best of Step by Step Beads 2011 today to:
Discover all that the color wheel has to offer! Create your own color palettes and draw inspiration from the unlikely.
Take advantage of 41 projects with color illustrations! Use these projects to create new jewelry that everyone will love.
Add some sparkle and shine to your jewelry box with a shimmering bracelet.
Use up all of your odd beads with different shapes and colors to create a funky necklace.
Learn new skills and hot tips that will keep your fingers workin' all year!
Skip the guesswork with step-by-step, bead-by-bead tutorials that will help you create plenty of stunning jewelry!
And much more!