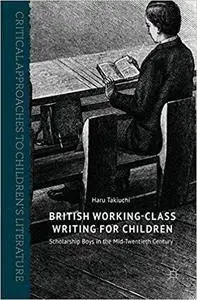 British Working-Class Writing for Children: Scholarship Boys in the Mid-Twentieth Century by Haru Takiuchi
English | 2017 | ISBN: 3319553895 | 218 Pages | PDF | 5.6 MB
This book explores how working-class writers in the 1960s and 1970s significantly reshaped British children's literature through their representations of working-class life and culture. Aidan Chambers, Alan Garner and Robert Westall were examples of what Richard Hoggart termed 'scholarship boys': working-class individuals who were educated out of their class through grammar school education. This book highlights the role these writers played in changing the publishing and reviewing practices of the British children's literature industry while offering new readings of their novels featuring scholarship boys. As well as drawing on the work of Raymond Williams and Pierre Bourdieu, and referring to studies of scholarship boys in the fields of social science and education, this book also explores personal interviews and previously-unseen archival materials. Yielding significant insights on British children's literature of the period, this book will be of particular interest to scholars and students in the fields of children's and working-class literature and of British popular culture.