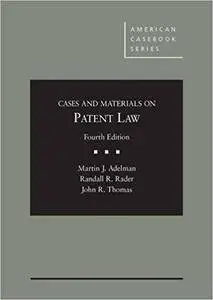 Cases and Materials on Patent Law (4th Edition) by Martin Adelman, Randall Rader, John Thomas
English | 2014 | ISBN: 0314274367 | 1092 Pages | PDF | 295.8 MB
This new edition captures all of the recent and rapidly emerging changes in case law and legislation, yet retains its student- and professor-friendly approach to the policies and rules of patent law. This version teaches the far-reaching legal tenets of patent law that are venerable and yet as current as the latest developments from the laboratory bench. Like its successful predecessors, this casebook draws on insights from other areas of U.S. law as well as from aspects of foreign systems.