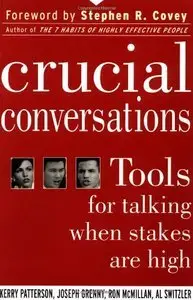 Crucial Conversations: Tools for Talking When Stakes are High
Audio CDs in MP3 / English: MP3, 53 kb/s (1 ch) | Duration: 04:17:58 | ISBN-10: 0972446222 | 2003 | 96 MB
Genre: Psychology and Behavior
"Crucial" conversations are interpersonal exchanges at work or at home that we dread having but know we cannot avoid. How do you say what needs to be said while avoiding an argument with a boss, child, or relationship partner? Crucial Conversations offers readers a proven seven-point strategy for achieving their goals in all those emotionally, psychologically, or legally charged situations that can arise in their professional and personal lives.
Kerry Patterson (Author)
Joseph Grenny (Author)
Ron McMillian (Author)
Al Switzler (Author)
Look also other Hypnosis, Psychology lessons:
Hypnosis Summit Training Videos
Advanced Mind Bending Language Hypnotherapy
Advanced Ericksonian Hypnosis
Mind Bending Language System
The Money In Your Mind
Advanced Walkup Street Hypnosis
Conversational Hypnosis Mastery
Hypnotic Pain Control
Major Mark Cunningham - Build A Better Girlfriend
Mark Cunningham - Introduction to Hypnosis
Mark Cunningham and Mike Doubet - Advanced Stage Hypnosis
Mark Cunningham - Basic Stage Hypnosis
Mark Cunningham - The Renegade Hypnotist Project
Mark Cunningham - Advanced Hypnosis 2000
Steve G. Jones - Explorations Beyond The Body & Intensive Training
David Snyder & Steve Piccus – Erotic Hypnosis Made Easy 2014
Dr Patrick Porter – Hypnotherapy Training
The 30 Day Total Energy Reboot
The Power Hypnotist Video DVD Program
How To Practice Hypnosis Without Fear
Hypnotic Speaker & Presenter
Hyptalk SiteRip
Daniel G. Amen - Change Your Brain, Change Your Life
D.A.Taft - Advanced Hypnosis
Coursera - Think Again - How to Reason and Argue
Complete Ericksonian Hypnosis - Beginners course
Chris Howard's - Master Transformational Leader and Coach Certification
Chris Howard's - Transformational Leader and Coach Certification
Change Phenomena – Headhacking
Certified Sports & Performance Hypnotist
Cal Banyan - Instant and Rapid Inductions for the Professional
Cal Banyan - 5-Path Hypnosis Training
Brian Tracy - The Science of Positive Focus
Brian David Phillips - Speed Hypnosis Techniques
Brian David Phillips - Experiential Ecstacy
Brian David Phillips - Exotic Hypnosis Inductions: Unusual & Unique Hypnosis Techniques
Bob Proctor - The Science Of Getting Rich
Bob Proctor - Six Minutes To Success
Become a SuperLearner: Learn Speed Reading & Advanced Memory
Bashar - Dream a Little Dream
Awakening Unafraid
Anthony Robbins - Time of Your Life
Anthony Robbins - Creating Lasting Change
Anthony Jacquin - Reality Is Plastic
Annenber Learner - Discovering Psychology
Amazing Brain Training
Allen Carr - Easy Way to Stop Smoking
Alan Weiss - Alan's Super Language Practicum
1-Step Solution Just Say Hu The Universal Panacea
Activate Your Sexual Magnetism
A Guide to Overcoming Depression
12 Steps to Hypnotic Influence
Welcome to the best eLearning video (English, German, French, Spanish language) and many more:
LINK
Do not forget to check my blog! Updated regularly!
No mirrors pls!