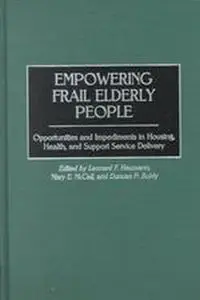 Leonard F. Heumann, Mary E. McCall, Duncan P. Boldy, "Empowering Frail Elderly People: Opportunities and Impediments in Housing, Health, and Support Service Delivery"
Publisher: Praeger Publishers | 2000-11-30 | ISBN 0275966518 | PDF | 296 pages | 1.9 MB
This book provides a unique analysis of provider-, environment-, client-, and societal-based obstacles to the empowerment of frail elderly persons in a philosophical framework of social values, as well as an applied framework wherein a variety of international case studies by a distinguished board of contributors provide concrete examples of the feasibility of achieving real empowerment. Empowerment means different things to different people in the context of housing, health, and social service delivery. This book analyzes the various definitions of the concept and practice of the empowerment of frail older persons and then discusses the definitions in a philosophical framework of social values regarding aging and the older person. Each chapter demonstrates the feasibility of achieving increased empowerment of older persons, even those with severe physical or mental disability. True empowerment of older persons in every country requires time, energy, money, and commitment to the goal. This book will be of interest to academic as well as professional audiences in areas of Gerontology, Psychology, Sociology, and Family Studies. Caregivers and policymakers will also find this analysis useful.