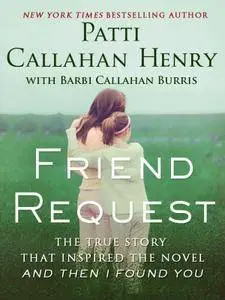 Friend Request: The True Story that Inspired the Novel And Then I Found You by Patti Callahan Henry
English | March 5th, 2013 | ASIN: B00BCFXDE2, ISBN: 146684082X | 38 pages | EPUB | 0.47 MB
Heartbreaking, inspiring, and totally true—this e-original short non-fiction story sets the stage for New York Times bestselling author Patti Callahan Henry's novel And Then I Found You.
Patti Callahan is one of three sisters, a member of a close-knit Irish American family. Yet as happy and boisterous as they appear to be, the Callahans have long harbored a heartache. Some twenty years ago, Patti's younger sister, Barbi, placed her infant daughter for adoption. The whole family respected Barbi's decision and admired her fortitude. Still, they couldn't help but wonder: What ever became of the beautiful baby who had been placed with a chosen, but anonymous family? On April 20th, 2010, Facebook gave them the answer they'd been looking for. It was a life-changing moment—one that inspired Patti to write this unforgettable true story.