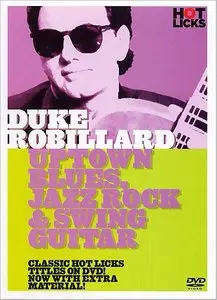 Hot Licks Duke Robillard - Uptown Blues, Jazz Rock & Swing Guitar
DVD5 | ISO | NTSC 4:3 (720x480) | MPEG2, 29.970 fps, 5830 Kbps | English: AC3, 224 Kbps , 48.0 KHz, 2 channels | 63 min | 4.11 GB
Subtitles: English, Spanish, French, German, Italian | Genre: Guitar lessons
Duke Robillard: Uptown Blues, Jazz Rock & Swing Guitar Take a tour of some great 1940s and 1950s American style as Duke shows you T-Bone Walker style, 9th chord extensions, blues­based swing, Charlie Christian style, passing tones, Les Paul style, scraping the strings, special rhythm licks, fast note flurries, and rock 'n' roll style. Let Duke Robillard share his amazing skills with you in this classic Hot Licks session.
- You see the music and the tablature on screen as it being playedAll right and left-hand techniques are shown in close up and with helpful split-screen effects to make learning easy
- Slow motion segments with standard pitch sound
- Artist biographies
- Selected discographies
- Suggested listening
Duke Robillard is totally exceptional. His command of the various Blues and Jazz guitar styles is authoritative, yet his painstaking and careful approach means that the licks and runs featured herein are relatively easy to master. Robillard's cool and easy presentational manner means that you learn quick and learn more.
Duke is a good explainer, and he chooses to showcase licks and riffs that open up avenues for exploration, rather than just prove what a great player he is. His breakdown of the T Bone Walker style is great.