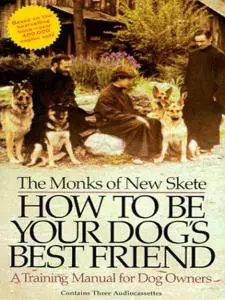 How to Be Your Dog's Best Friend: A Training Manual for Dog Owners
Audio CDs in MP3 / English: MP3, 64 kb/s (2 ch) | Duration: 04:18:06 | 1999 | ISBN-10: 1565113373 | 118 MB
Genre: Dog training
The Monks of New Skete are known for their unique approach to raising and training dogs; they maintain the philosophy that "understanding is the key to communication, compassion, and communion" with your dog.
In How to Be Your Dog's Best Friend, the monks build upon the basic puppy training covered in their book The Art of Raising a Puppy to tell you everything you need to know to care for your dog. From how to select a dog to fit your lifestyle, how to read a pedigree, how and when to train, how to properly use praise and discipline, and how to feed and care for dogs, the monks offer clear guidelines to improving communication with your canine.
Filled with the wisdom, compassion, and caring that the brothers are known for, How to Be Your Dog's Best Friend helps you better understand your dog, which can lead to a deepened bond with your pet.
Welcome to the best eLearning video (English, German, French, Spanish language) and many more:
LINK
Do not forget to check my blog! Updated regularly! Add in bookmarks my blog :)
PM me if Links not working!
No mirrors pls!