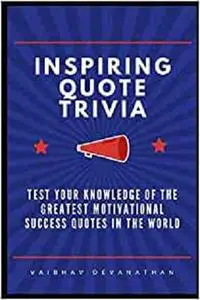 Inspiring Quote Trivia: Test your Knowledge of the greatest Motivational Success Quotes in the World by Vaibhav Devanathan
English | January 17, 2021 | ISBN: N/A | ASIN: B08TFQLHVF | 102 pages | EPUB | 0.18 Mb
If you're stuck at home or on a long commute, this is ideal
If you want to take your mind off tedium, a book of word puzzles is the best way to go! And the fact this book is packed full of happiness inducing words is the icing on the cake.
A unique book of puzzles
Many motivational books lay out their content in front of you, and ask you to go through a lot of well meaning, inspiring words and quotes. At the end of that, you feel virtuous and determined, but it doesn't always last, because you haven't had to work to discover the source of the wisdom, and you haven't put in the time to reflect on the lessons learned from those wise words.This book is different. Yes, it is packed to the brim with clever sayings and witty words, but you aren't given those up front. Instead, you have to use your word gaming skill to guess what each quote could be, and this delayed gratification will help you take those words to heart, and to remember them longer than you otherwise might have. As you while away idle hours, you're also filling up your motivation gas tank!
Quotes that will change your life
The sayings in this book are chosen from among the most witty and thoughtful quotations of all time. You will find quotes for leaders, quotes about living, quotes about women, quotes about men, quotes about animals…the list goes on. Whether you want to use this as a puzzle book and actually try guessing each quote, or just want to read through the answers (the completed quotations) and marvel at the ability of philosophers of the past and of the modern day to say complicated things in a single sentence, this book has something for you!
Puzzles and games for adults and children
If you do want to exercise your grey cells, this book will give you plenty of opportunities. Any given clue can be solved at different levels: you might already know the quote on which that particular clue is based, in which case the solution is trivial. You might not know the quote, but you can use your vocabulary to figure out each individual word from the fragments that are given to you, and thereby complete the quote piece by piece. Finally, you might just use pattern recognition skills to solve a couple of words in the entire sentence, and then complete it based on what your brain thinks the quotation should be.
Difficult riddles and graded difficulty
In general, within a given chapter, the difficulty of the clues you have to solve increases gently from the first to the last clue. Also, over the entire book, the clues get a little shorter (shorter sentences are harder to decipher), and the words get a little harder to guess. If you make it all the way to the end, you are a genius.
Feel Free to contact me for book requests, informations or feedbacks.
Without You And Your Support We Can't Continue
Thanks For Buying Premium From My Links For Support