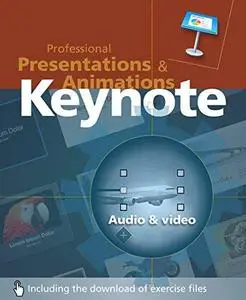 Keynote: Professional Presentations and Animations by Angelo Spiler
English | January 4, 2016 | ISBN-13: 9789082259018 | 131 pages | PDF | 8.86 Mb
This e-book contains a complete and compact Apple Keynote course to build professional presentations and animations on your own. Through hands-on exercises, you quickly learn to use the interface, tools and commands. Special knowledge is not required, but you do need general computer skills.
Topics
• the work flow • the interface • slides, master slides and (own) themes • paragraph, ­character and list styles • links • shapes, lines and color • slide transitions • actions • build ins and build outs • magic move • image processing • instant alpha • video and audio • drawing with the pen • tables and charts • formulas • conditional marking • Keynote on iPads, iPhones and the web • rulers and guides • dictation • notes • print • export • presenter display • remote control • online polls • Keynote community • glossary • shortcuts