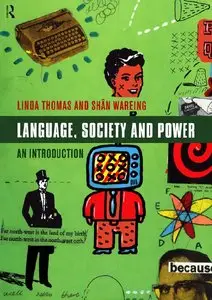 Language, Society and Power
Routledge | July 1999 | ISBN-10: 0415187443 | 240 pages | PDF | 1.6 MB
This is the book for anyone who has ever wondered how language influences thought, how language impacts on our daily life, and how power is perpetuated through language. Written in a lively and accessible way, with examples drawn from everyday life, Language, Society and Power looks at language use in politics and the media; differences in language use according to gender, ethnicity, age and class; how language affects and constructs our identities; and the significance of our attitudes towards language use and our notions of correctness. Language, Society and Power brings together a wide range of topics showing the links between them and explaining fundamental theories about connections between language, thought and power. Features include: * exercises to encourage students to investigate ideas for themselves * end of chapter summaries * a glossary of key terms A highly interdisciplinary textbook which shows the centrality of language across the humanities, Language, Society and Power is an essential introductory text for students of English language and linguistics from A-level upwards, and of great relevance to students of media communication, cultural studies, sociology and psychology.