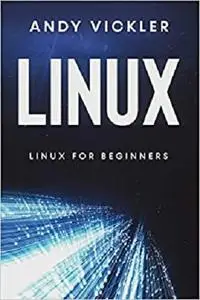 Linux: Linux for Beginners by Andy Vickler
English | February 4, 2021 | ISBN: N/A | ASIN: B08VYR5ZP1 | 173 pages | EPUB | 0.85 Mb
Have you always used the Windows operating system and want a change? Have you heard the term Linux before and wondered what it is? Have you ever feared implementing Linux as an operating system just because it's free? Do you also have a misconception that free software is never really what it's cracked up to be? If you have ever asked yourself these questions, then you've come to the right place. This book will answer everything you want to know about Linux, and make you wonder why you haven't made the change already.
This book is designed for beginners of the Linux operating system and includes guides to download and install the Ubuntu operating system along with images. Ubuntu is a comfortable distribution of Linux for first-time users. The book will also introduce you to the Linux operating system's command line, which is essential when using Linux.
In this book, you will:
Learn the history of Linux and the Ubuntu distribution of Linux
Be able to easily follow the steps you need to download and install Ubuntu Linux
Discover the many features and applications of Ubuntu Linux
Gain a deep knowledge of the Linux command line
Investigate Shell Scripting in Linux
See examples of the Linux Boot process
And so much more…
This book has been written so that you can learn Linux from the fundamental level. With each chapter, you will fall in love with Linux and transition smoothly over from Windows or macOS. The book includes code snippets with images to give you a practical experience of Linux as you progress with each chapter. So, what are you waiting for?
Feel Free to contact me for book requests, informations or feedbacks.
Without You And Your Support We Can't Continue
Thanks For Buying Premium From My Links For Support