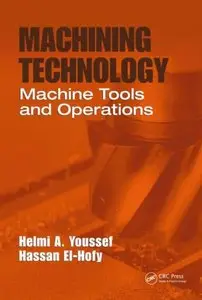 Helmi A. Youssef, Hassan El-Hofy "Machining Technology: Machine Tools and Operations"
CRC | 2008-04-23 | ISBN: 1420043390 | 672 pages | PDF | 16,8 MB
Offering complete coverage of the technologies, machine tools, and operations of a wide range of machining processes, Machining Technology presents the fundamental principles of machining and examines traditional and nontraditional machining methods. After a brief historical overview, the book explores design considerations and machine tool requirements and provides a detailed discussion of modern machine tools, metal cutting machine tools, hexapods and their applications, as well as environmentally friendly machine tools and operations. Including review questions and solved problems, the text also addresses dimensional accuracy, form accuracy, surface integrity, machine tool dynamometers, jigs, and fixtures.
–- Want to thank - download from my links –-
–- No mirrors, please –-